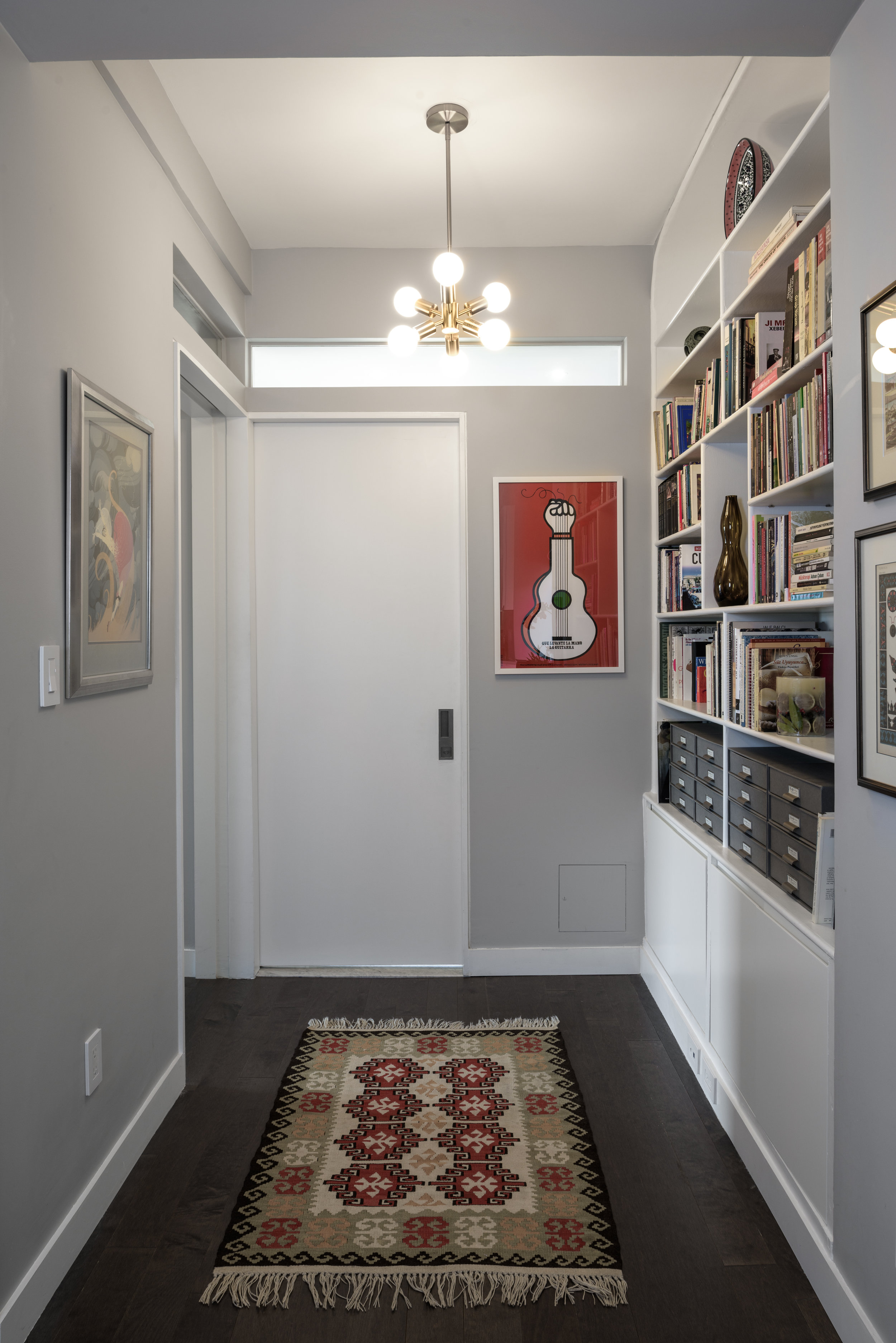 Carnegie Hill Residence
Fundamental was hired by a couple - a surgeon and an ethnomusicologist - to gut renovate a Carnegie Hill co-op apartment on Fifth Avenue. Formerly the servant's quarters to a larger Central Park-facing front apartment, the unit, with southern, eastern, and northern exposures, had been converted to a dark two bedroom guest apartment with a small living and dining space and a small non-functional kitchen.
The clients wanted to convert the apartment to a one bedroom residence with a larger living space that could double as a guest bedroom. Additionally, as they were both cooks who liked to have dinner parties, it was important to create a kitchen where two people could cook and entertain their guests simultaneously. Working with the existing architectural character of the prewar apartment, the solution was to start by reorienting the circulation along the co-op's south end on axis with the front door so that the rest of the apartment could be opened up for living and sleeping spaces.
Next, the closet dividing the kitchen from the foyer and other spaces of the co-op was eliminated to increase the size of the kitchen and link it back to the rest of the apartment. With a more open layout, Fundamental introduced millwork to add more storage and to visually tie all of the living and entertaining spaces together. The bedroom at the back of the apartment was retained as the new master bedroom and the front of the apartment was opened up to create a more gracious living and dining space that takes advantage of the northern and southern windows.
Design moves such as hiding a sliding partition within the new living-dining millwork, rehanging the front door so that it swings the opposite way, and adding transom windows above the bathroom and bedroom doors open up the space of the small apartment allowing it to be both more spacious and functionally versatile.
photo credits: Alan Tansey